It's a joint venture between Fokker Elmo and SASMOS, a manufacturing company to build Electrical Wiring Interconnection Systems for the Aerospace Industry.
Centre of Excellence for Aircraft wiring
Defence Fighters Jets, Defence Coast Control Aeroplanes & Airborne Warning and Control Systems
Commercial Jets
Business Jets
Trainer Jets
Cargo Jets Conversion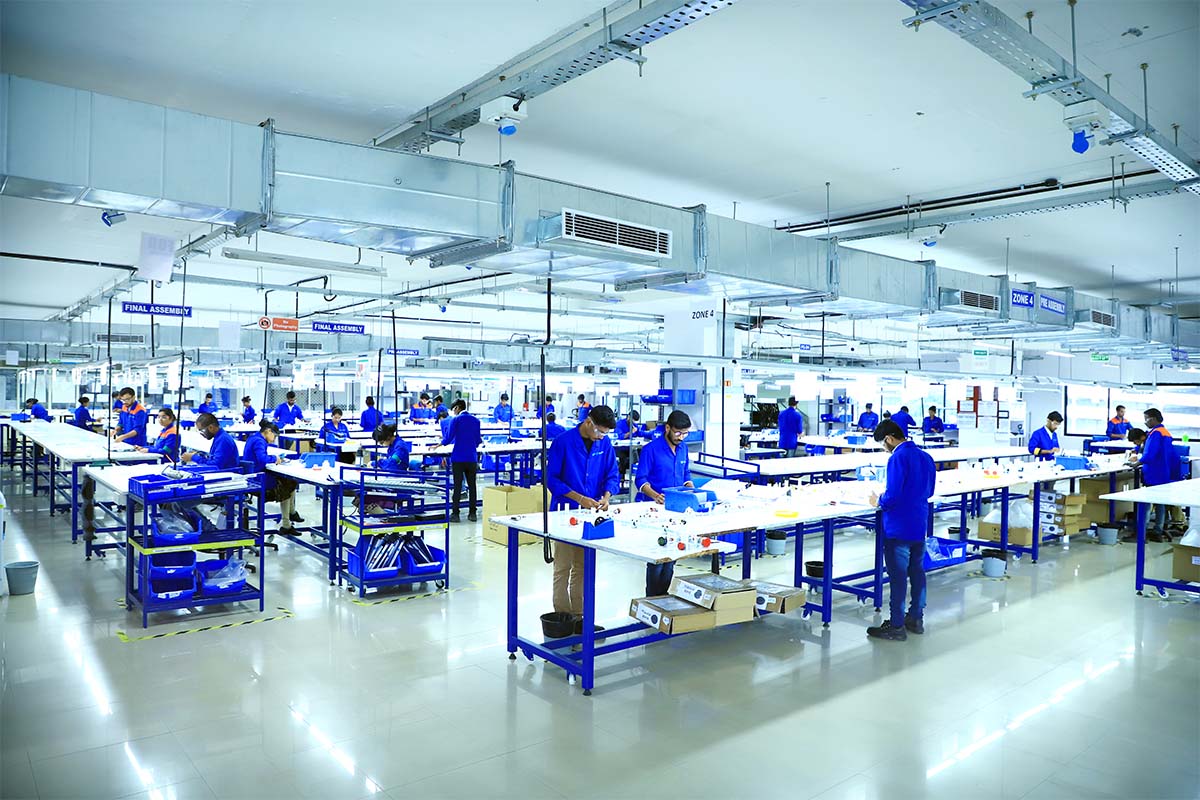 World class Single Process – Multi Sites
Proven performance in Work Transfer
EWIS design knowledge and toolset
50 years of experience with all major OEM's
Business continuity
Advanced Global Logistics
Comprehensive Compliance Program
Benchmark in the Harness manufacturing industries in India
Proven international experience (>80% exports)
Indian (customer; supply chain; IOP; political network)
Technical capability

Reliability
10+ years of experience in multi-platforms with consistent performance, recognised by Global OEM's
Robust QMS, AS9100
Innovation
Centre of excellence for aircraft wiring & panels
Localisation up to 97%
Scalability
Consistent sustained growth at 61% CAGR
Exclusive scalable infrastructure facility, Training & Certification

Technical
Strong global partnership, JV with Fokker-GKN leveraging decades of experience
Dedicated D&D Team for E3
Vision
We commit to be ready for the future and ensuring continuity by improving and developing the capability of people – so that we continue to win in the long term.
Simplify the processes by following Production System Methodology to create "inspired routine", to strive towards better quality and reduced throughput time by constant evolution.
To strengthen our global position by leveraging the best ideas no matter where they come from.
FE-SIL will be the strategic and indispensable partner for our Global Customers, for in the Asia region and beyond.
Mission
We earn the "license to Operate" by assembling top quality and technical innovative electrical wiring harnesses against competitive cost.
We offer an unparalleled high service level and respond quickly and professionally to the needs of our customers.
In our Assembly Factory our people make the difference, inspired by India Culture to make Life worth to live
Strategic Cornerstones
| | |
| --- | --- |
| Customer Services | Delivering OTIF |
| EHS | People Welfare |
| Quality | License to Operate |
| People & Morale | Knowledge, Reward & Recognition |
| Productivity & Flexibility | Customer Responsiveness |
| Innovation | Competitive Edge |
| Cost | Overall Equipment Effectiveness (OEE) & Labour Productivity (OLE) |
Key Challenges
Be a leader in driving safety, sustainability, cost, and quality (in process FPY 100%)
Successfully implement and embed LEAN into the DNA of the organisation, while ensuring continuity and sustainability
Establish World Class customer service levels by building a robust and agile organisation
Lean practices as VSM must be tightened up and incorporated into personal objectives.
Share and implement best practices among the different programs
Conversion of new technology and low-cost intelligent automation align Industry 4.0 to ensure our competitive edge towards the future
People Excellence: Training qualified employees who can be deployed on multiple lines and/or programs and act as process experts to strengthen our backbone in knowledge we have in harness making.